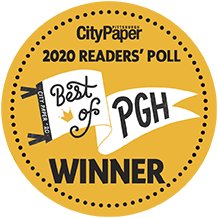 We have 10 flavors of Macarons!
Select your flavors in store or buy one of our 10 Pack (one of each flavor).
Call to order ahead for 3 dozen or more
---
WE WILL RE OPEN ON —–  Friday November 3
REGULAR STORE HOURS       
Friday 8am-2pm
Saturday 8am-2pm
ORDERING 
Call 412-821-8533
Call Tuesday, Wednesday, or Thursday to place orders. 
If no one answers, leave your NAME, PHONE NUMBER & YOUR ORDER REQUEST.
YOUR ORDER IS NOT FINALIZED UNTIL WE RETURN YOUR CALL & SPEAK WITH YOU. 
BREAKFAST PASTRIES  $4 each
OR If you ORDER at least 24 hours IN ADVANCE, 6/$20 or 12/$40
Plain Croissants 
Chocolate Croissants
Almond Croissants  
Chocolate Almond Croissants 
Kouign Amann
Palmiers 
Danish (maple, cinnamon, cheese, cherry, apricot)
SPECIALTIES
APPLE STRUDEL  $20 serves 6 
FRENCH BRETON SHORTBREAD  $10   7" round, 1" tall— Like a big, thick, moist,  butter cookie
NUT ROLL $20  8" long    Walnut, Honey, Brown Sugar mixture, Spread on to thin butter dough & rolled 
POPPY ROLL $20  8" long   Poppy Seed filling, Spread on to thin butter dough & rolled.
KEY LIME PIE $25 (serves 8) (message inscription available) or 2 slices/$8 (walk up only)
OCCASION CAKES
5 Gourmet Choices
Decorated with White Chocolate Flowers
Message Of Choice
ADVANCE ORDER ONLY: Call 1 to 2 weeks in advance. Place calls on Tuesday Wednesday or Thursday . 
PICK UP :   Thursday 12-5,  Friday 10-5,  or  Saturday 8-2
CHOOSE SERVING SIZE  (all are rectangular)
# 1   Serves 8-10   $45
#2   Serves 16-20   $85
#3   Serves 32-40   $160
CHOOSE FLAVOR
FRESH RASPBERRY 
Yellow Cake, Raspberries nestled in French Buttercream. Serve at room temp.
LEMON RASPBERRY
Yellow Cake,  Raspberry Mousse, Lemon Cream, French Buttercream, Raspberry Preserves. Refrigerate
CHOCOLATE MOUSSE
Chocolate Cake,  2 layers Chocolate Mousse, covered in Chocolate Ganache. Refrigerate
CARROT   Pineapples, Walnuts, Carrots.  No raisins. Refrigerate
OPERA  10 layers including Almond Sponge Cake, Chocolate Cake, Mocha Buttercream, Chocolate Ganache and Chocolate Mousse. Refrigerate
CAKE BY THE SLICE   $6  Available in store.  We do not take advance orders for slices.
FRENCH MACARONS 
10 Flavors  (made with Gluten Free ingredients)
ALL 10 FLAVORS AVAILABLE  WALK IN during store hours, Friday & Saturday.
Lemon * Strawberry *  Raspberry  * Mango-Passionfruit * Lavender Poppy 
Pistachio * Almond * Vanilla * Chocolate * Espresso 
THE 10 PACK  (A great value!  Advance order NOT necessary.)
All 10 Flavors $20  
SELECT YOUR OWN Flavors  (Advance order NOT necessary. Choose flavors in store)
6 Macarons $13  ( gift box $14)
10 Macarons $22
12 Macarons $26
18 Macarons $39  (gift box)
ADVANCE ORDERING  available for 3 dozen or more
$26/doz —  3 to 5 dozen
$24/doz — 6 dozen or more
French Macarons

"That French Bakery in Millvale" video and more NEWS