Specialties
French Macarons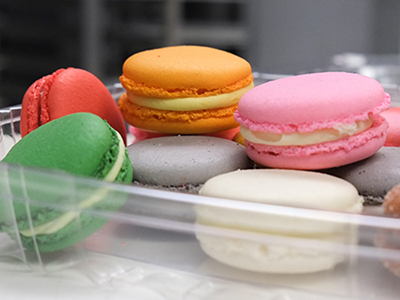 Macarons  are GLUTEN FREE meringue-like almond "cookies" with fillings infused with natural flavors.
Breton Cake
(Gâteau Breton or French Shortbread)
This cookie-like cake originates from Brittany, Jean-Marc's homeland, the Northwest part of France known for buttery pastries. Cut into slices and eat as is, or top with fresh fruit and whipped cream.
Hungarian Nut or Poppy Seed Roll
Traditional Hungarian version. Made with butter and honey. Walnut or Poppy Seed filling. No fillers or preservatives.  Weighs one pound.  Made year round.
Mini Pastries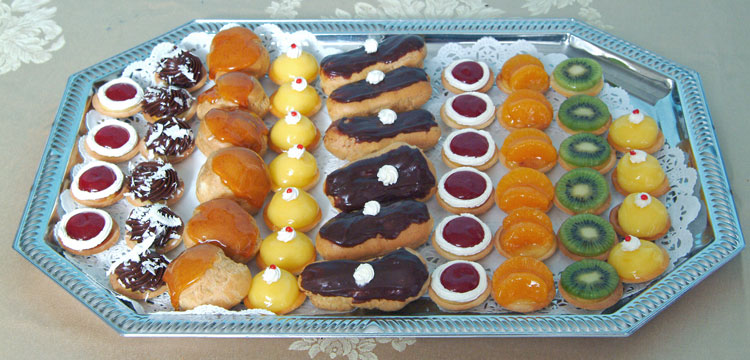 Bite-sized tarts. Made from scratch with the freshest ingredients. Perfect for when you want variety with no cutting, no crumbs, no mess.
French Lemon Cream
Fresh Kiwi
Mandarin Orange
Chocolate Ganache
Cream Puffs
Raspberry
Èclairs
Minimum advance order is 3 dozen. Order of 3-5 dozen includes variety of tarts (kiwi, orange, lemon, chocolate, raspberry). Order of 6 dozen or more can also include eclairs and/or cream puffs. Specify preference when placing order.
Marzipan Chocolate Penguins
Sponge cake filled with chocolate mousse, wrapped with marzipan and coated with dark chocolate.
Penultimate dessert: Chef offers sweet team mascots to honor playoffs, April 12, 2007, Pittsburgh Post-Gazette, Bob Batz, Jr
Croquembouche
French for "cracks in your mouth." Cream puffs are made from scratch and filled with custard. Then they are coated with caramelized sugar, arranged in a cone shape and decorated with elegant pastillage flowers and Jordan almonds.
Chocolate Truffles
Handmade by Jean-Marc with the finest imported Belgian chocolate.
100% real cream, butter, and select liqueurs.
Sold in packages of 6.
Larger quantities can be pre-ordered.